Skip to product information
SB3 Money Ceramic Quick Detailer
$14.99
SB3 Money Ceramic Spray
Product Description
Elevate your car's shine to a new level with SB3 Money, our Ceramic Quick Detailer. Specially formulated with cutting-edge ceramic technology, this quick detailer revitalizes your vehicle's finish effortlessly. Spray, wipe, and watch as it cleans, enhances gloss, and adds a protective ceramic layer, creating a showroom-worthy shine that lasts. 
Say goodbye to water spots, dust, and contaminants while reveling in the mesmerizing water-beading effect. Safe for all finishes, SB3 Money is your go-to solution for maintaining a pristine, head-turning appearance with minimal effort. It's time to make every drive a masterpiece – get your bottle today and let your car shine brighter than ever.
Directions
Before you begin, make sure your vehicle's exterior is relatively clean. It's best to use the Ceramic Quick Detailer on a surface that's free from heavy dirt, mud, or debris. If your car is dirty, consider washing it first. Shake the Ceramic Quick Detailer bottle well to ensure the solution evenly distributes ceramic particles. This is crucial for the product's effectiveness.
Simply Spray and Wipe! 
Recently Wishlisted
Add on optional description to this section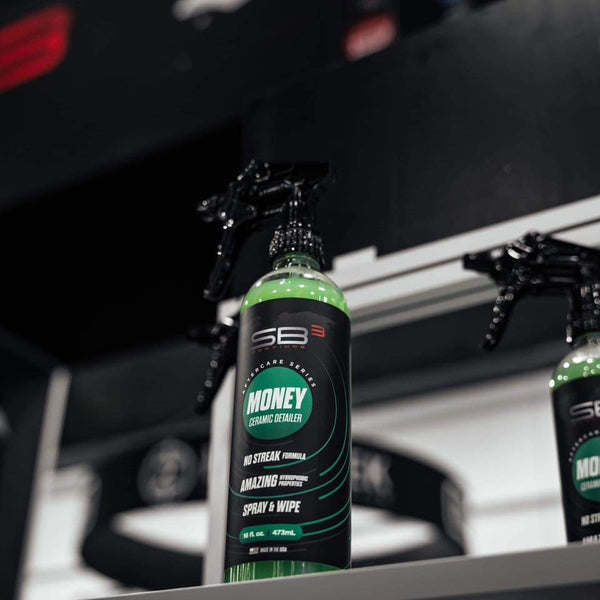 SB3 Money Ceramic Quick Detailer
$14.99