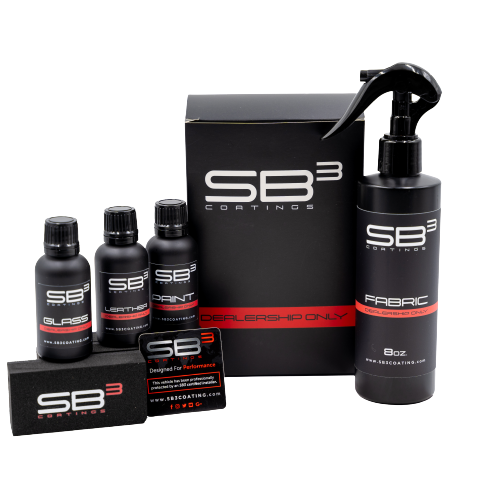 DEALERSHIP COATING KIT
Our dealership kits are designed for simplicity of install, making sure your technician makes no mistake. Each bottle is labeled for individual applications.

Each kit contains the following items.

Paint Coating is designed for easy application and durability. This single application layer offers 5 to 7 years of protection while leaving a great layer of gloss and slickness. Paint is a great coating for someone looking for long term protection. It allows for nice ease of maintenance and great protection.

Protecting the inside of your interior is a great way to make spills and stains clean up easily and fast. Leather from SB3 Coatings is a premier interior protectant. It works well on all leather and leaves a nice soft supple feel. It will not leave the leather hard and is built to flex.

Glass Coating is a glass coating designed for windshields. This proprietary formula promotes extreme durability with unsurpassed hydrophobic self-cleaning capabilities. Glass greatly enhances visibility for windshield during rainy times. Glass Coating makes windshield cleaning a lot easier. It will also make removing bugs faster.

Fabric is the ultimate fabric protection for all interior surfaces. Fabric was created for those demanding the best protection when it comes to their interior auto fabric. Fabric creates a unique layer of protection that bonds to carpets, floor mats, and Alcantara. Spills wipe right up, and won't settle in. This truly is a soccer mom's dream come true.
NEW CAR PROTECTION
The SB3 New Car Dealership Ceramic Coating kit is designed to make life simple. Each bottle is labeled for per application. Each kit comes with a complete vehicle protection designed specifically for each surface. Each kit will protect paint, glass, trim, along with interior fabric and leather. 
FACTORY TRAINING
Training starts right away with us at no cost to the dealership. From Sales to Install, we will come to you and spend a day or two if needed to train everyone from finance, sales, and the service department. Each department gets their own training catered to them.

ARE YOU READY TO LEARN MORE?
PLease keep in mind, we get a huge interest in automotive detailers wanting to become Surface Specialist, we try to get back to everyone within 24 to 48 hours. If you are looking for immediate help, please call or text Barry @ 7178758686. This is the absolute fastest way to become an installer.