Skip to product information
Maintain 16oz case
$126.00
Maintain case of 6
SB3 Maintain is the premier in Ceramic Protective Coating quick detailing, boasting a 3 month long super hydrophobic finish, scratch resistant formula and utilizing advanced nano coating technology. Its advanced properties and ease of use make it the best choice for durability, slickness and overall protection.
​Ultra Hydrophobic Coating


Excellent Weather & UV Resistance

Heavy Chemical Resistance

Anti-Graffiti

Corrosion & Oxidation Resistant

High Quality Gloss Finish

Full Scratch Resistance

Self Cleaning Nanoceramic Formula

Micro-marring & Etching Protection
SB3 Maintain was created to give the end user an easy-to-use maintenance product for their coated vehicle. Maintain can be used regardless of which coating is on your paint, you can use SB3 Maintain to add gloss and slickness to your vehicles surface!  
Directions:
Prior to applying Maintain, wash and dry your coated car as normal.

Make sure all areas that are to be treated with Maintain are free of dirt and debris. Then simply spray product on the surface and wipe clean.

A second towel can be used to remove any remaining product.
If your vehicle is coated, SB3 maintain will make maintenance easy!
Recently Wishlisted
Add on optional description to this section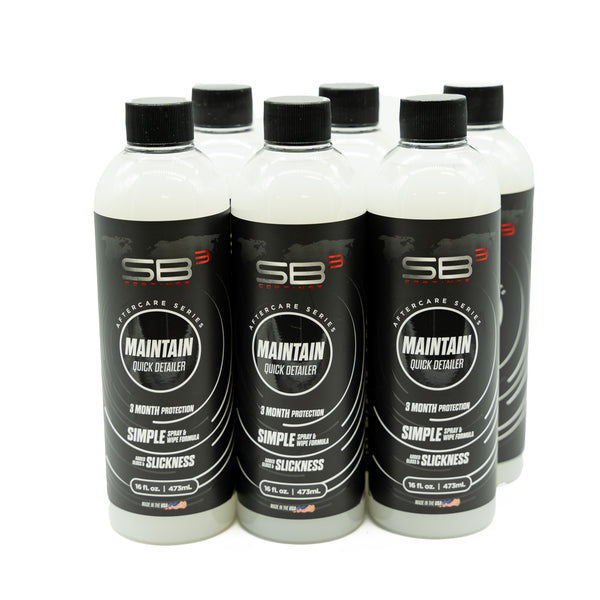 Maintain 16oz case
$126.00